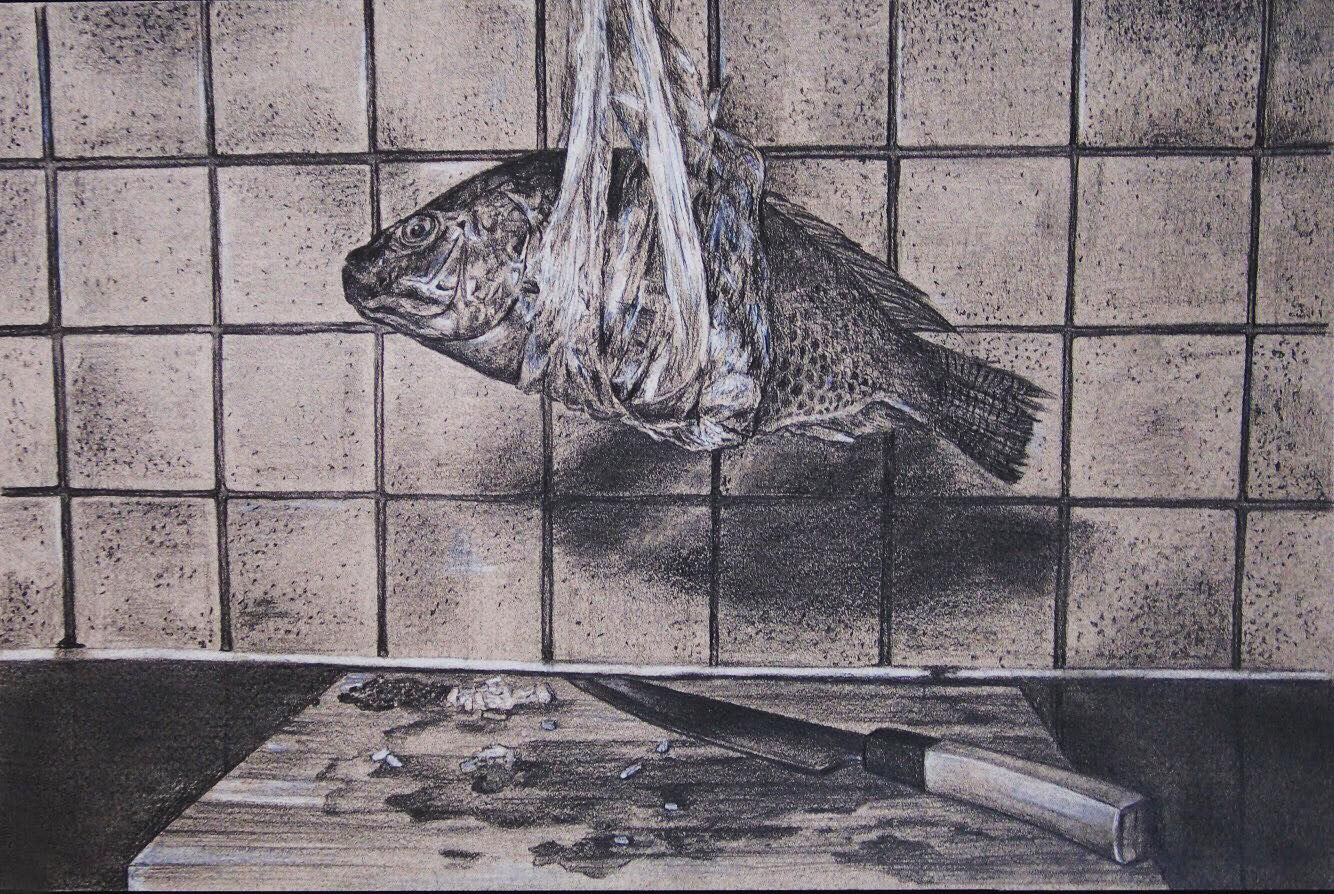 2018. 02. 02

最後一項素描課作業 — 畫一張靜物,自由發揮但其組合必須有意義。
開始畫之前,老師說可以先拍照寄mail給她告訴她想法,她可以給一些打光或是組合的意見。
我好慶幸我有寄mail,因為這是唯一有文字的評語,我可以完全明白她的意思(平常都是口頭的英文夾雜希伯來文,只能 "心領神會"....)
而我原本以為得到的會是技術性的建議,殊不知如此詩意!
The idea of what i want to draw is:
There's a phrase in Chinese called "人為刀俎,我為魚肉",which means to be fish (meat) on someone's chopping block.
And i thought if i were the fish, i wouldn't allow myself to be trampled.
Thus, I tied up the fish, it somehow looks like hanging (suicide) but it aboves the knife and the chopping block, avoiding being killed by others.
אן, קודם כל זו תמונה חזקה מאד! כצילום. שנית, המורכבות והאמביוולנטיות הזו שאת מדברת עליה היא טובה והופכת את הצילום למעניין עוד יותר: החילוץ של הדג הוא גם מעשה התאבדות, מצד שני החילוץ, התלייה והצל שנוצר על הקיר, נראים כאילו השיבו לדג מעט ממצב הציפה והשחייה בתוך מים. כאילו הוא שב לרגע, לבית, למקום שבו היה חי, גם אם זה בפנטזיה (כי הוא עומד למות) וגם אם זו את שמשיבה לו את החיות ע״י זה שאת מחזירה לגוף שלו את מצב הציפה והתנועה שבמים.
sorry I had to start with my mother tongue. and now i'll translate my words to english 🙂
First Ann, its a very strong Photo! good and powerful work of Art.
Second, the complexity and ambiguity that you're talking about, is what makes this picture to be so good and interesting: the act of rescuing the fish is at the same time a suicidal act. Tying the suicide rope, looks like wearing a wound, and because of it and because of the shadow on the wall, It become metaphorical and poetic: It turns to be as if you gave the fish his life back, you returned to his limited body, the floating and swimming in water state. you're act returned the fish for a brief moment to his home, to the place he lived once. And even if it is only a moment in the artist (yours) fantasy or in the fish fantasy (if he's not yet died) it is a poetic moment.
It can be great Drawing!! Good Luck, and show the Photo with the drawing.
Your's
Neta